If your fabrication facility produces laminated materials on an ongoing basis, consider laminate machines from HMT Manufacturing. We design, build, sell, service, and support industrial laminate machinery. This laminate machinery can be loaded with 500′ rolls of hot melt film adhesive and quickly laminate substrates to virtually any material.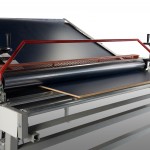 With laminate machines from HMT, fabrication facilities produce higher quality laminated products, faster, with less cleaning/maintenance than manual laminating methods. Our Advantage Laminating System glues material to a substrate quickly, cleanly, and uniformly. The most recognized application is laminate adhered to particleboard, but HMT's industrial lamination machinery bonds wood, carpet, sponge, paper, fabric, foam, vinyl, rubber, screen, felt, metals, and much more.
This is NOT a machine for laminating wallet-friendly ID cards or covering paper with a translucent plastic film.
Our customers are running up to 10 times the output with HMT Advantage Laminating Systems vs. messy glue applications. And they're doing it at up to 50% lower cost. To receive a sample of your materials laminated using our laminate machine, click here.